For more information about the
Evil Genius Competition
, check out the
competition page
.
What follows is a template example of a competition entry:
Name of Lair:
The Black Lake
Name of Boss:
OctoBoss
Boss Description:
A two tonne amphibious Octopus in a very bad mood
Special Power:
OctoBoss has a beautiful singing voice. The melody will attract passing travellers bringing them ever closer to the dangerous depths of the Black Lake.
Minion Description:
The Outstretched Tentacles. Each tentacle detaches from the OctoBoss meaning they can travel over land as well as live in the depths of the lake. Sticky suckers will grab you and freeing yourself from their vice-like grip is no easy task. Once they have you in the lake, you're well on the way to becoming OctoBoss's next meal. Yum.
Linkling:
http://www.missing-ink.com/play?pid=145907
Lair Description:
You enter the lair through a dark and mysterious swamp. On the right-hand side you'll see a small entrance way into a dark foreboding cave. As you travel through the cramped caverns you'll encounter many small critters from laser-eyed lobsters to large clawed crabs. Finally you'll arrive in a huge cavern where the outstretched tentacles will suddenly appear from the lake. Once you've defeated them it's just the two-tonne moody OctoBoss left to fight - good luck!
Evil Manifesto:
OctoBoss is hungry. OctoBoss eats anything and everything. OctoBoss would like to draw the whole world into his gaping maw. He hates land and land lubbers and if he had his way, the whole world would be flooded with bone-chilling freezing water drowning all of our myths, legends and stories. With everything under water his detachable tentacles are free to fetch and deliver adventurers, builders and critters directly to his formidable bone-crunching beak.
Optional Screenshot: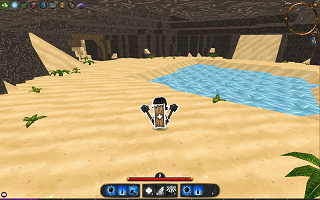 Optional Artwork:
OctoBoss:
OctoBoss Tentacle: